New ANSI Standard for Warnings Published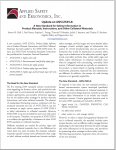 ANSI Z535.6, a Standard for Product Safety Information in Product Manuals, Instructions, and Other Collateral Materials, has recently been published.  This standard is the first of its kind and the latest addition to the ANSI Z535 series, which includes standards for safety signs, labels, and symbols.
For more information about the development and content of ANSI Z535.6, click here to see our recent article (0.2Mb PDF file).